Womens Tennis Apparel
Womens Tennis Apparel-From Humble Beginnings
to Stellar Attention Worldwide
Jessica Learns How This Sport Showcases The
Female Flair For Fashion
At just fourteen years of age, Jessica was a very skilled and accomplished tennis player. She had been playing since the age of five, and throughout the years her love of tennis continued to grow.
She had been invited to take part in an International Junior Tournament, and was looking forward to playing with some of the toughest and most skilled competitors from all over the world.
She had been practising for this tournament for months and couldn't wait for the day to arrive. The only thing left to decide was what sort of women's tennis apparel she should choose for the event.
With the tournament only two weeks away, Jessica and her Mom were going to purchase her new tennis clothes online from the hottest boutique that offered the newest styles in women's tennis dresses and tennis bags.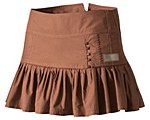 They had all the latest and most chic fashions for women in tennis with pieces from the Stella McArtney
line and other famous brands.
Jessica's Mom couldn't help but remark that the evolution of style in women's tennis apparel was very obvious as she compared the current styles and trends to the ones offered to women when tennis was first introduced. She had studied women's apparel in sport as part of her college course in fashion design. And she decided to take this opportunity to tell Jessica all the details.
From The Beginning…..
Although tennis has been played for hundreds of years, the kind of tennis that we know today has been around for about 130 years. Earlier versions of it were called "Sticky" and "Lawn Tennis" but as Jessica's Mom explained, "The rules and play for those versions were varied and different from the way tennis is played now."
And it wasn't until 1884 that women began to play competitively in the sport. A women's singles event was played at Wimbledon and there were just 13 women in the competition. In 1899, women's doubles championship started and in 1887, the United States Tennis Association began the women's championship and it evolved into what it is today. Jessica had no idea that tennis was around for that long and she was even more surprised when her Mom told her what kind of women's tennis apparel was acceptable back then.
And For The Women
In the early days of tennis, women wore full length dresses as their tennis apparel. Jessica looked at some pictures online and couldn't believe how difficult it must have been to move around and compete in such attire. Compared to the svelte, breathable, and body fitting styles of tennis dresses worn today, the old styles looked very uncomfortable.
The most common and acceptable color was white. The material in the first women's tennis dresses was often very heavy and thick as well. The tennis dresses often included a bustle and even a fur! Jessica was actually quite glad that her choices for women's tennis apparel were so different and that so many colors and materials were acceptable and available today.
Ultra short one or two piece sets in a bright array of colors were definitely more interesting to Jessica. She loved modern tennis dresses and tennis skirts because she could essentially create her own fashion statement while on the tennis court.
To think, it wasn't until the early 1900's that tennis clothing for women began to change. The styles changed from the elimination of the bustles and furs, to calf length and in the 1930's, the more modern short, lightweight tennis dress from which today's styles have evolved. As ladies tennis apparel changed from reserved and restricted to comfortable and fashionable, it created a huge market for new designers and a much larger interest in women's tennis clothing.
Today's Styles Make A Solid Fashion Statement
Stella McCartney, Steffi Graf and even Venus and Serena Williams have joined the growing number of designers creating the most functional yet fashionable women's tennis apparel available today. Designed to meet the needs and expectations of today's female tennis players, women's tennis clothing is made to please.
And marketed through Nike, Adidas, K-Swiss and Fila, there is definitely a design that will appeal to any woman who plays tennis.
While browsing online, Jessica found tons of amazing tennis dresses, bags and skirts that she knew would be absolutely perfect for the tournament.
There was a gorgeous Stella McCartney tennis dress that she just had to have and a lovely Adidas tennis top and skirt that would suit her to a tee. There were even tennis shoes that would match her outfits! There was so much to choose from, Jessica knew that she would be back online to shop for women's tennis apparel again and again.
Actually, Jessica was very pleased that her Mom told her all about the kind of tennis apparel worn in the early days of women's tennis. After she learned how the styles had evolved over the years, she was even more into tennis than she had ever been. She loved playing tennis and being able to incorporate her own sense of fashion into it made it even more fun and exciting.
- Cheri Britton
Cheri is the editor of Womens Tennis Apparel.com.
Her passions are ladies tennis apparel, tennis, and the promotion of the game of tennis worldwide. She also watches far too much tennis than is good for her.
Resource URLs:
History of Tennis
Women's History
Tennis Wikipedia


Other Tennis Articles by Chris Lewis:

Are Tennis Champions Born? -- Or Made?
Pete Sampras: Sorry Pete, But That's No Sacrifice
Wimbledon Center Court: What An Experience
On Court Coaching: Should It Be Allowed?
Tennis Parents: "The Ugly Parent Syndrome"
Tennis Ethics
A National Junior Development Program Disaster
Harry Hopman: A Tennis Legend
Vitas Gerulaitis: Rest In Peace
Tennis Marketing: Substance Versus Image

Other Articles by Chris Lewis:

A Tribute to Maria Montessori -- An Article on Child Education

More Tennis Articles:
Mental Toughness - by Tomaz Mencinger
Tennis Psychology - by Tomaz Mencinger
Tennis Shoes History - By Cheri Britton
The Wimbledon Trophy -- A History - By Miguel Seabra
Doubles Tennis Strategy - By Kathy Krajco
---