Junior Tennis

Welcome to my junior tennis page.
I'm glad you've found me as I've devoted a large part of my life to not only playing junior tennis myself, but also coaching and developing many other young tennis players, from beginners to international junior champions. I also have three young children who love to play tennis tournaments and who practise at every opportunity.
With my tennis experience, gained over a lifetime of playing, watching and coaching the game, there are few things I enjoy more than passing my tennis knowledge on to you, who obviously also shares my passion for tennis.
Kids Tennis
If you're a parent seeking advice on junior tennis racquets, need help finding the right kids tennis shoes, looking for general information on kids tennis equipment, or if you're just looking to find tennis lessons for kids, I'm confident you'll find what you're looking for on my site. Just click here for helpful information on kids tennis and tennis for beginners.
With the specialized tennis equipment that is now available for young tennis players, the game has become far easier and more fun to learn. For instance, did you know that there are now specially made junior tennis balls? -- ideal for your three or four year old if he or she is learning to play.
Speaking of which, when is the best time to start tennis lessons for kids? Well, click here to find out.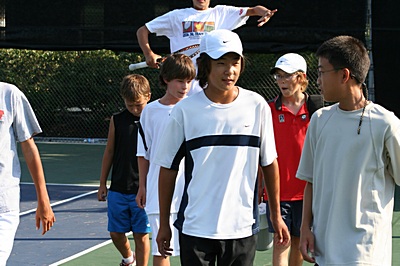 Junior Tennis Camps
And then there are issues of things like tennis camps and tennis academies for juniors. Do they provide good value? And how do you know the good ones from the bad?
As someone who spent a number of years at one of the most famous tennis academies in the world -- Harry Hopman's Tennis Academy in Florida -- I know a fair bit about what life is like at tennis camps.
International Tennis For Juniors
As I do about what life is like for someone playing tennis at international junior level. I was a former number one junior in the world (1975), and have coached players to international success at Junior Wimbledon, the US Open Juniors, the Australian Junior Open and the Orange Bowl.
Tennis Articles
I've also got a section of the site devoted to tennis articles, many of them on issues involving junior tennis. For instance, there are articles on Tennis Ethics, and on "The Ugly Parent Syndrome", and whether or not a childhood devoted to becoming a professional tennis player involves sacrifice.
But because junior tennis covers such a huge range of topics, what I'd really also like is feedback from you.
If there's something on the site that you'd like to discuss, or if there's something that you'd like me to add, please don't hesitate to contact me as I'd love to hear from you.
Meanwhile, thanks for visiting my site, I hope you enjoy reading it as much as I've enjoyed putting it together.
If you're a tennis parent, a young player, or a coach who would like to know what life as a first class junior player is really like, there's a new documentary available that will give you a better idea than anything I've ever seen.

Titled 50,000 Balls, it "chronicles the trials, tribulations and rewards of the Boys USTA 12 and Under Tennis Circuit." Featuring interviews with players, parents and coaches, interweaved with hard rocking action footage of the sports top young players, including the four young stars of the show -- TJ Pura, Joseph Di Giulio, Mitchell Krueger and Mitchell Polnet -- every question you've ever had about high-level junior tennis will be answered.

For instance, do you want to know what a tennis parent's role is in your talented child's tennis development? Perhaps you'd like to know what a typical day's schedule is? Ever wondered about the emotional demands made on an internationally competitive 12 year old tennis player? Do you think you've got the technique and the footwork to make it as a professional tennis player?

There's no better way to learn the answers to these questions by hearing it from the boys, their parents and their coaches in this extraordinarily insightful documentary.


SPECIAL OFFER
We need your help. Dr. Cohn at peaksports.com and I would like you to tell us about the top mental game of tennis challenges you (or your players) face and how we can better serve you.
The tennis survey should take only two minutes of your time (of course, the survey is anonymous)
By answering 10 questions, we'll have the input we need to bring you the most relevant and practical mental game articles tools to build confidence and success in tennis. Please do it today...
Please click here.
Many thanks,
Chris



---