Tennis Marketing

Substance versus Imag
e
Tennis Marketing: Substance versus Image
A tennis article by Chris Lewis

Having spent a significant amount of time in Germany when Boris Becker and Steffi Graf were at their respective peaks, I witnessed first-hand the tennis explosion that those two set off in their homeland.
I also know that Thomas Muster sparked huge media interest in Austria when he was at his best, and with it, a far greater interest in the sport there.
In Brazil, sports shops sold out of tennis racquets overnight following Gustavo Kuerten's success at the French Open in 1997.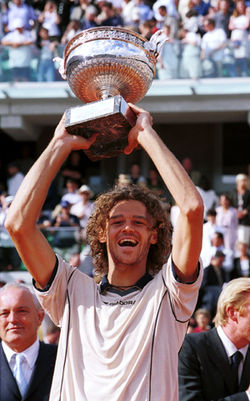 And Patrick Rafter's US Open win the same year also had a similar impact in Australia where tennis equipment sales went through the roof.

These trends are not limited to a particular era. In the years since Bjorn Borg's arrival on the international tennis scene, Sweden, with a population of only nine million, won the Davis Cup a staggering six times between 1984 and 1998, and was a finalist on five other occasions.

Argentina's Guillermo Vilas had a similar impact in his home country, where tennis is now one of the most popular sports.

Likewise, with their rise to international prominence, Martina Navratilova and Ivan Lendl did for Czech tennis what Borg did in Sweden.

You would think, then, that in view of the indisputable empirical evidence, there is no doubt whatsoever that the best way to attract people into a sport, the best way to elevate the status of a sport, no matter what country, is to have that country's top players among the best in the world.

Right? Wrong. Well, that is if you listen to many of today's marketing gurus.

They believe that all of the sporting world's problems can be solved by:
"rebranding"


"repackaging"


"reshaping the image of the sport"


"creating a different perception in the eyes of the public"…
…without there ever being any regard for the brand, the package, what the image is of, or what is actually being perceived.
In other words, if New Zealand were to produce a Roger Federer, that would not necessarily do anything for tennis -- but creating a different image of the game would.
Virtually all of today's PR jargon is not only designed to trick the audience into thinking something important is actually being said, but also to justify jobs where, in the main, money would be far better spent on improving the product.
No matter how much you try to get people to believe otherwise, pretending something isn't what it is -- as in holding a sport up to be in better shape than it's in -- does far more harm than good.
If the All Blacks (New Zealand's national rugby team) suddenly started losing to Italy and Argentina, no amount of "spin", no amount of "reshaping Rugby's image", no amount of switching the color of the All Back jersey would deceive the public into thinking that New Zealand rugby was in good shape.
In fact, not only would people be disappointed with the losses, but they would also become fed up with everything else about the game as well.
A highly professional marketing approach can play a valuable role in the promotion of any sport, but only if the marketing is based upon the facts, not upon some spin doctor's distortion of them.
At the end of the day, results speak for themselves -- and no amount of marketing "ingenuity" will ever change that.


Chris Lewis


Please feel free to publish this article on your own website, as long as you provide a link back to http://www.expert-tennis-tips.com and give credit to the author.

Other Tennis Articles by Chris Lewis:

Are Tennis Champions Born? -- Or Made?
Pete Sampras: Sorry Pete, But That's No Sacrifice
Wimbledon Center Court: What An Experience
On Court Coaching: Should It Be Allowed?
Tennis Parents: "The Ugly Parent Syndrome"
Tennis Ethics
A National Junior Development Program Disaster
Harry Hopman: A Tennis Legend
Vitas Gerulaitis: Rest In Peace

Other Articles by Chris Lewis:

A Tribute to Maria Montessori -- An Article on Child Education

More Tennis Articles:
Mental Toughness - by Tomaz Mencinger
Tennis Psychology - by Tomaz Mencinger
Tennis Shoes History - By Cheri Britton
Womens Tennis Apparel - By Cheri Britton
The Wimbledon Trophy -- A History - By Miguel Seabra
Doubles Tennis Strategy - By Kathy Krajco
---