The Wimbledon Trophy
A History
Wimbledon Trophy - A History
Below is an excerpt from an article written by well known tennis journalist, Miguel Seabra
Neale (Fraser) asked me: "Hey, Do you know what's written on the Wimbledon men's singles trophy?"
I said I didn't, so he told me. It says: 'The All England Lawn Tennis Club Single-Handed Championship of The World'!
What a delicious detail. Back when the trophy was made, in 1887, there were no two-handed backhands, much less those freakish two-handed forehands. Tennis was played single-handedly by men and women (how's that for added irony, given the superiority today's women are thought to enjoy?). These days, of course, more and more players on both tours use 'modern' two-handed backhands. Another sublime irony is that Wimbledon is usually won by a player with one-handed backhand. Ok, you had Bjorn Borg (1976-80), Jimmy Connors (1974, 1982), Andre Agassi (1992), Goran Ivanisevic (2001) and Lleyton Hewitt (2002). But do the math and compare the overall take of Roger Federer, Pete Sampras, Boris Becker, Stefan Edberg, John McEnroe, Rod Laver – and don't even bother going further back than that, because the two-hander was a freak shot for most of tennis history.
Given the relation between the two-handed backhand and serve-and-volley proficiency, here's the Question of the Day: Was the proliferation of the two-handed backhand a major blow towards the extinction of serve & volley?
Hint: how many excellent serve & volley players – at any level – hit a two-handed backhand?
Now consider this: two of the greatest serve & volleyers – Stefan Edberg and Pete Sampras – learned the game with two-handers before their coaches made them go to the single-hander (in order to improve their volleying skills). The decision sent Sampras and Edberg into tailspins, junior career-wise, but I think most people would agree that things turned out okay. Let's face it, with the one-hander, it's easier to hit backhand sliced approaches, and to get more feel - and touch - on the backhand volley.
So, here's a tennis tip for you players: if a player who hits a two-handed backhand comes to the net on you, always attack the backhand volley. It will pay off. Trust me (editors note: Listen to Mikey, he plays just like Federer!)
There's another way to look at this. What about those who, unlike Edberg and Sampras, kept serving & volleying without switching to a one-handed backhand. America's David Wheaton immediately comes to mind. He won a two cool million in the infamous Grand Slam Cup in 1990, but he never got past the Wimbledon quarterfinals. Jan-Michael Gambill was another serve & volleyer with a two-handed backhand, and he's pretty much fallen off the radar. Gentleman Todd Martin was a great player, but he choked his 1996 Wimbledon semifinal away. Andy Roddick has that cannon-like serve that enables hit to (sort of) serve & volley on grass, and he was second only to Roger Federer as a grass-court player for nearly three years. But oh my, watch those backhand volleys and weep!
So the proficient, two-handed volleyer is a rare species, but three turned up in the Wimbledon quarters this year: Jonas Bjorkman, Radek Stepanek and Mario Ancic (note to Matt: he doesn't have anything like Richard Krajicek's pedigree; we'll hash that out later!). In fact, seven out of the eight male quarter-finalists wield two-handed backhands (the exception, of course, is three-time defending champ Roger Federer). Does that mean Roger is the only one allowed to win the trophy meant to be delivered to the winner of the 'Single-Handed Championship'? How perfectly symmetrical was last year, with "one-handed" Federer and "Venus" Williams taking the Venus Rosewater Dish?
Oddly enough, despite this high tide of two-handers in the men's game, the ladies' final will be contested by an ever greater rarity: two top players who have one-handed backhands. Until this year, there hasn't been a Wimbledon ladies final between two one-handers since Jana Novotna vs Nathalie Tauziat in 1998.
So, there you go – food for thought. One-handed backhands vs two-handed backhands: weigh in your pros and cons. And if you're a stat geek, how about figuring out the percentage of two-handed backhanders on either tour, and comparing their winning percentage with that of single-handers?
- Miguel Seabra, At Wimbledon 2006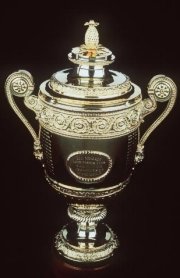 ---
For complete histories of the four greatest tennis tournaments in the world, you'll find what you need at Wimbledon - the premier tennis Grand Slam, The US Open, The French Open and The Australian Open.
---