Tennis Champions
Are They Born or Made?

John Newcombe, former world tennis No 1 and former Australian Davis Cup captain, once said that the top Australian players of his era believed that it was their destiny to become tennis champions.
Boris Becker told me that two weeks before achieving his first Wimbledon title (in 1985 when seventeen years old), he felt as if it were predetermined.
As a seventeen year old, Ivan Lendl, who, prior to Pete Sampras, held the No 1 spot longer than any other player in history, was convinced that he would turn himself into the best player in the world. He would even tell you so.
When asked by the media about his chances of winning his first US Open title (in 1975), Jimmy Connors' response was: "There are 127 losers in the draw -- and me!" Jimmy won.
What these former greats had in common was an unshakeable certainty that they would win. It is a trait that is shared by all top sports people.
But a question that has always fascinated me is: Are such champions born, or are they made?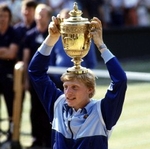 Were Newcombe, Becker, Lendl and Connors born to rule the tennis world? Or did they become champions because of the choices they made? Was their success predetermined, as suggested by Newcombe and Becker? Or was it a result of a single-minded dedication to making themselves the very best, as implied by Lendl and Connors?

Are champions a product of "nature", or of "nurture"?

To be a true champion at tennis or any other sport requires very special qualities. These qualities or attributes can be divided into two categories -- the physical and the mental. It is my contention that physical attributes are predominantly a product of chance. They are determined genetically.

For instance, some people are born with a body structure conducive to speed, others to strength, and so on. In this sense, a very large proportion of the population are excluded, from birth, from ever winning an Olympic gold medal as a sprinter or a weightlifter.

It is the same with tennis. The physical attributes that are required to become a champion player are such things as good hand-eye coordination, quick reflexes, and leg-speed. Without question, these attributes can be developed to their fullest potential with hard work and effective training methods.

But most people are excluded from becoming the best tennis player in the world, no matter how much time they spend attempting to reach their physical ceiling of potential.

Does this mean, then, that champions are born? Were Newcombe, Becker, Lendl and Connors so physically superior to everyone else that becoming the best was just a mere formality?

Certainly not. All four were exceptionally gifted physically, but in my view, there were other players of the same eras who were more gifted than they were.

What separated them from everyone else were their mental attributes . . .
their will to win,


their determination,


their perseverance,


their ability to remain calm under pressure,


their ability to bounce back from disappointments,


and the belief that they deserved to win . . .
. . . all attributes that not one of us is born with, but that each one of us has the power to develop. The only choice is whether we want to.
It is in this sense that, given the necessary or essential physical attributes as a starting point, all champions are not only made -- they are self-made.

Chris Lewis



Please feel free to publish this article on your own website, as long as you provide a link back to http://www.expert-tennis-tips.com and give credit to the author.
What Do YOU Think? Are Champions Born Or Made?
Share your views on this contoversial subject.
What Other Visitors Have Said
Click below to see contributions from other visitors to this page...

Born or made

All great greatest athletes are born to be made. Not just born to be or made to be. Whatever sports or endeavors you have to, you must posses both Inborn …
kshitij kamal

hey guys..! i hav written dis article 2 notify u guys dat i will becum d first indian 2 claim men grand slam title.i m destined 2 do so. GOD BLESS
Born and Made

As for many issues, it's a little bit of both of course. As a true tennis fan, I'd like to think that these champions were born, that they had this destiny …
Made Not rated yet
Yea Roger had God given skills but he still had to put his life into the sport.
The are born + made. Not rated yet
Mental attributes can be determined genetically as much as the physical ones. The brain is another "organ" of the body and therefore is under the same …
Dawn Taylor Not rated yet
Born - You feel as if you are more special than others and your standards are very high . I mean you have a sense of more to offer than others by way of …
Born with Potential? Make it into something. Not rated yet
I believe that all good players are born with potential. It's a matter of how you develop it that seperates the winners from losers.
Tennis players Not rated yet
hello kennedy jameson hear, i am writing to inform you that i dont really like tennis, and i think it should be banned ! not very good, and is very boring …
its all in your head Not rated yet
yes. it is all in your head if you dont think you can be a champion. you can, if you believe you can.with the good Lord anything is possible, anything. …
Nurture over Nature Not rated yet
There is no doubt that in order to have a champion you must start with a person of outstanding potential. However, all things being equal physically and …
Carl Not rated yet
I believe there is a percentage that is born, a percentage that is developed and a roll of the dice!
50-50 Not rated yet
There is a thought in modern psychology that a persons personality is 50% nature , 50% nurture. I think the same is true about tennis playing ability. …
Champions Are Born Not rated yet
The mental aspect is something I've wondered about for years. As a junior I had a great game, a brilliant coach who believed in me and a supportive father …



Other Tennis Articles by Chris Lewis:

On Court Coaching: Should It Be Allowed?
Sorry Pete, But That's No Sacrifice
Wimbledon Center Court: What An Experience
Tennis Parents: "The Ugly Parent Syndrome"
Tennis Ethics
A National Junior Development Program Disaster
Harry Hopman: A Tennis Legend
Vitas Gerulaitis: Rest In Peace
Tennis Marketing: Substance Versus Image

Other Articles by Chris Lewis:

A Tribute to Maria Montessori -- An Article on Child Education
Suzuki and Montessori Versus Today's Culture
More Tennis Articles:
Mental Toughness - by Tomaz Mencinger
Tennis Psychology - by Tomaz Mencinger
Tennis Shoes History - By Cheri Britton
Womens Tennis Apparel - By Cheri Britton
The Wimbledon Trophy -- A History - By Miguel Seabra
Doubles Tennis Strategy - By Kathy Krajco
---