Harry Hopman
A Tennis Legend

There was hardly a man in world tennis more respected than Harry Hopman.
Right up until his death at 79 years of age in 1985, Harry Hopman could be seen on court every day at his Tennis Academy at the Bardmoor Country Club in Largo, Florida, where he ran a huge tennis complex of 30 Har-Tru Courts and 10 cement courts.

My association with Mr Hopman began in 1975 at Junior Wimbledon. He was advising Ricardo Ycaza of Ecuador, the player I beat in the final. I was aware that he'd watched my play throughout the second week, and that he knew of me.

I began visiting his tennis academy at Bardmoor in 1977, and during the time I spent there, such good players as Andrea Jaeger, Kathy Horvath, Ramesh Krishnan, Fritz Buehning, Scott Davis, Hans Gildemeister, Johan Kriek, Peter McNamara, Paul McNamee, Andres Gomez, Vitas Gerulaitis and John McEnroe trained at the academy.

Such was the respect that Harry Hopman commanded, just by his record and his presence, that all the players, without exception, would call him Mister Hopman. Well, almost without exception, as occasionally Vitas would call him "Mr H," but no one would dream of calling him Harry.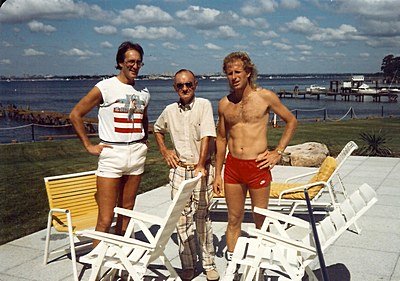 Harry Hopman (center) with Vitas Gerulaitis



One of the reasons Hopman earned so much respect, was that he truly loved the game. He wasn't just interested in the big names, but in anyone wanting to play tennis. At his camp, there were always dozens of inexperienced players, as well as the bigger names, and Hopman took a personal interest in all of them.

He had such a passion for the game, that even in his seventies he would travel to the Grand Slams -- Wimbledon and The US Open -- just to follow the form and results of his players. No job was too small for him. I saw him the week before Wimbledon, out there, acting as a ball-boy for Vitas Gerulaitis during practice sessions.

There has also been a spin-off to Hopman's coaching fame. Other coaches who have worked under him have later found themselves to be in heavy demand. For instance, Bob Brett, a Hopman employed coach went on to become one of the most sought after coaches on the pro tour.

Harry Hopman always retained an extremely close interest in all his players, to the point of making and receiving daily phone calls during tournaments to hear reports on various matches.

He was an incredibly interesting character. He began playing international tennis in 1928. A top class doubles player, winning two Australian doubles titles with Jack Crawford in 1929 and 1930, and also reaching the French doubles final and the Wimbledon mixed (with his wife Nell).

He was playing captain of the Australian Davis Cup Team in 1938-39, and as late as 1948 reached the French Doubles final with Frank Sedgman.

It was as mastermind of Australian tennis that he made his reputation though, guiding players from the era of Frank Sedgman, Ken Rosewall and Lew Hoad, through to John Newcombe and Tony Roche. He left Australia in 1969 to base himself in the United States.

As well as being passionate about the sport, Hopman was also a strict disciplinarian. He was known to stand hidden on the balcony of his house, which overlooked a golf course used by tennis players as a running track. Hopman would watch the players through a pair of binoculars to make sure they were sticking to the prescribed course and running at the right speed!

Players who visited his tennis camp knew they were going there to work. A typical day there for me would begin with 10-15 minutes of warm-up exercises, followed by 2 ½ hours on court. These sessions would always be very physical but also very interesting. Harry Hopman had hundreds of his own drills, and there was always something different to keep players interested.

After this workout would be a lunch break of 90 minutes, followed by more exercises, and the another 2 ½ hours on court.

At the end of the day, players were given the option of playing practice sets or going for a run.

The fact that Harry Hopman was involved in tennis at the highest level for such a huge time span, is a tribute to his dedication and commitment to what was a life-long passion for tennis. Never did I visualize myself sitting at a dinner table with Harry Hopman and tennis heroes such as Lew Hoad, Ken Rosewall, Frank Sedgman, Neale Fraser and players of their ilk, who had attended last year's Wimbledon, French or United States Opens and hearing the discussion of what McEnroe or Lendl or Connors should have done at a particular stage of the match.

It was an insight into the way these men reacted to the crises which confronted them 10, 20 or 30 years earlier. It's a most thought provoking exercise trying to create a mental picture of Hoad playing Rosewall in a major final, or Frank Sedgman playing a vital Davis Cup match.

Harry Hopman was the man who sat on the sideline and gave advice to these men, and must take a lot of credit for their achievements. That's what made him a tennis legend.
Chris Lewis



Please feel free to publish this article on your own website, as long as you provide a link back to http://www.expert-tennis-tips.com and give credit to the author.


Other Tennis Articles by Chris Lewis:

Are Tennis Champions Born? Or Made?
On Court Coaching: Should it be allowed?
Sorry Pete, But That's No Sacrifice
Wimbledon Center Court: What An Experience
Tennis Parents
Tennis Ethics
A National Junior Development Program Disaster
Vitas Gerulaitis: Rest In Peace
Tennis Marketing: Substance Versus Image

Other Articles by Chris Lewis:

A Tribute to Maria Montessori -- An Article on Child Education
Suzuki and Montessori Versus Today's Culture
More Tennis Articles:
Mental Toughness - by Tomaz Mencinger
Tennis Psychology - by Tomaz Mencinger
Tennis Shoes History - By Cheri Britton
Womens Tennis Apparel - By Cheri Britton
The Wimbledon Trophy -- A History - By Miguel Seabra
Doubles Tennis Strategy - By Kathy Krajco