Wimbledon Center Court
An Experience . . .
Wimbledon Center Court
A Tennis Article by Chris Lewis

"What would it be like to be at center court at Wimbledon?"
It's a question I had asked myself ever since I was a nine year old playing mock Wimbledon finals against my brother, Mark, in the courtyard of our Mt. Albert, Auckland home.
I had to wait fifteen years before I could answer it.
Still, no matter how many times you've asked yourself what it would be like, no matter how many times you've dreamed about it becoming a reality, no matter how many times you've mentally rehearsed it, nothing fully prepares you for the overwhelming emotional response you feel upon stepping out in front of the 15,000 people surrounding one of the most famous sporting arenas in the world.
There is no other place on the international tennis circuit that demands as much from the players emotionally as the Wimbledon Center Court.
Having played on the respective center courts at the Australian (when it was at Kooyong), the French, and the US Opens (when it was at Forest Hills), I can say that, although they each have a unique atmosphere, none comes close to matching Wimbledon's unique ambience. If ever there was a place where you find out about yourself, center court at Wimbledon is that place.
For a tennis player, the first Wimbledon Center Court experience is a defining moment; an occasion that even most tennis professionals do not ever experience.
From the time the playing schedule is released the previous day, to the time that you're informed in the locker room to be ready to play, to the short time you spend waiting in the special ante-room before walking out to play your match, everything that you do is geared towards what is always a huge occasion -- a match on center.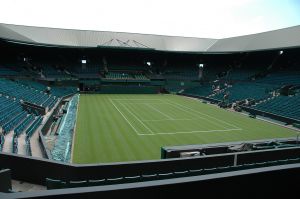 With the obvious importance that is attached to the match, which is not only going to be seen by the 15,000 courtside spectators, but also by the millions of television viewers worldwide, your focus is well and truly sharpened by the time the immaculately dressed Wimbledon official lets you know that, "It's time to play, gentlemen."

With the senses at their most heightened, the moment that you take your first step towards the chair in which you will sit during end changes is one of those all too rare moments when you catch yourself thinking that this is what life should be like all the time.

Which is exactly how I felt as I walked out to play my first match on the Wimbledon Center Court in 1981.

It was a doubles match. My partner was the Australian, Rod Frawley, who went on to reach the Wimbledon singles semi-final the same year.

Our opponents were, ironically, five times Wimbledon winners and one of the all-time great doubles combinations -- John Newcombe and Tony Roche.

I say ironically, as Newcombe and Roche had been two of the players whose identities Mark and I had assumed in our pretend backyard Wimbledon finals.

Not only were they two of the greatest players in history, they were also two of the Wimbledon crowd's favorite players.

It was a first round match, and Newcombe and Roche were making their first appearance at Wimbledon for a number of years. They were returning heroes, and there, right alongside them, I was making my first appearance on the Center Court.

With Newcombe and Roche being such sentimental favorites, the crowd acknowledged their return with a thunderous ovation, which, for me, only intensified the incredible adrenalin rush that every player feels on such a big occasion -- and there is no bigger occasion in tennis than walking on to Wimbledon's Center Court, the place where tennis players' dreams are turned into a reality.




Chris Lewis (4th July, 1998)

Please feel free to publish this article on your own website, as long as you provide a link back to http://www.expert-tennis-tips.com and give credit to the author.


Other Tennis Articles by Chris Lewis:


Are Tennis Champions Born? -- Or Made?
Pete Sampras: Sorry Pete, But That's No Sacrifice
On Court Coaching: Should It Be Allowed?
Tennis Parents: "The Ugly Parent Syndrome"
Tennis Ethics
A National Junior Development Program Disaster
Harry Hopman: A Tennis Legend
Vitas Gerulaitis: Rest In Peace
Tennis Marketing: Substance Versus Image


Other Articles by Chris Lewis:


A Tribute to Maria Montessori -- An Article on Child Education


More Tennis Articles:

Mental Toughness - by Tomaz Mencinger
Tennis Psychology - by Tomaz Mencinger
Tennis Shoes History - By Cheri Britton
Womens Tennis Apparel - By Cheri Britton
The Wimbledon Trophy -- A History - By Miguel Seabra
Doubles Tennis Strategy - By Kathy Krajco





---