Prince 03 Tennis Racquet Technology
PRINCE 03 TENNIS RACQUET TECHNOLOGY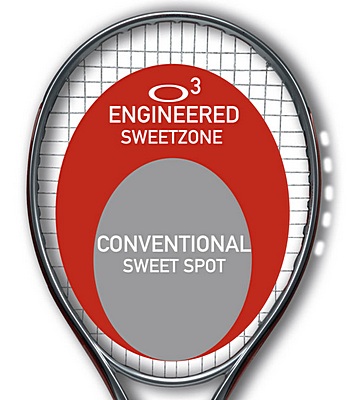 PRINCE 03 TENNIS RACQUET TECHNOLOGY
The Prince O3 tennis racquet technology is an innovation from the company that launched the original oversized racquet in the '70's, constant taper system in the 80's, and the longbody in the 90's. Through the marvel of advanced engineering, Prince has been able to dramatically increase the size of the Sweet Spot again without increasing the size or length of the racquet or changing weight or string tension.
With the O3's breakthrough engineering, the sweet spot has been enlarged by 54% to create a Sweet Zone, so players of all levels can hit their best shots more often, faster more accurate serves, more controlled volleys, and more penetrating ground strokes. Not only is the engineering radical, but so is the look. The sleek black frame splashed with metallic color, either red or silver, accentuates the most unique feature of the O3, the giant O-Ports.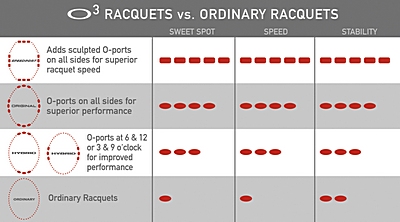 Engineered for the Zone
The new O3 re-engineered racquets provide something never before thought possible in a tennis racquet, a large sweet spot in a maneuverable and aerodynamic frame. Prince 03 tennis racquet technology has re-engineered traditional pin sized string holes into giant O-Ports, providing total string freedom for a livelier response across the entire string bed. This has expanded the conventional sweet spot by 54%, turning it into a Sweet Zone, allowing the player to hit more consistent shots, from more places on the racquet, more often.
O-Ports also act as 'wind tunnels' to reduce aerodynamic drag, creating a fast and maneuverable frame which produces a faster swing speed for more aggressive play.
PRINCE 03 TENNIS RACQUETS
Prince Tennis Racquet Reviews
Prince 03 Speedport Red
Prince 03 Speedport Blue
Prince 03 Silver
Prince 03 Citron
Prince 03 Blue
Prince 03 Red
Prince 03 White
Prince 03 Tour OS
Prince 03 Hybrid Hornet Midplus
Prince 03 Hybrid Tour
---