Rec. Strings: Premier with Softflex

Having played on the Tour with the Original Prince Graphite (and before that the Prince Woodie), it's always fun to try out any Prince MidPlus or OS racquet. To that end, I really enjoyed being one of the first pros to test the Prince 03 Speedport Red.

With the 03 Speedport series, Prince have done it again. Testing has showed that the sculpted O-Ports have not only increased racquet speed by 24% but they've also made the sweetspot 59% larger. Add to that a variable damping system and new thermoplastic bumper guard, and what you've got is one sensational racquet.

Here's what I thought of it…

GROUNDSTROKES

Even though the Prince 03 Speedport Red has a power level of 1100, I felt completely in control of every shot I played. From flat drives to viciously angled topspin "dippers" to knife-like backhand slices, to delicate drop shots, this racquet let me do it all. After 30 minutes, I had the feeling that I'd being playing with it my whole life.

I loved the effortlessness of generating tremendous racquet head speed, a strikingly obvious benefit of the improved aerodynamics of speed port technology. What made things even more fun is that when I first play points with a new racquet, I'm normally a little unsure as to how a racquet is going to behave on certain shots. This wasn't the case with the Prince 03 Speedport Red as it has an unusual combination of both "feel" and power. Combined with an enormous sweetspot, I had no trouble playing as powerfully, consistently, accurately and with more spin than with any racquet I've ever played with.




VOLLEYS
Just as at the baseline, at the net I loved the Prince 03 Speedport Red's maneuverability. I love a racquet that's head light, but, even more importantly, one which has a rock solid feeling to it when the opponent's heaviest shots make contact with the strings.
Whether I was hitting reflex volleys, drop volleys, or routine volleys into the corners, I was totally at ease with the racquet. I couldn't find any area where I didn't have 100% confidence in the way the racquet behaved. Around the net, this racquet's agility and stability will feel right at home in the hands of anybody who likes to spend time at the net.
SERVING AND SMASHING
With the extra swing speed, a 105 sq" racquet head and a gigantic sweetspot, smashing is a breeze.
As for serves, it's great for everything -- plenty of power, and ideal for hitting slice or kick. The extra ¼" of racquet length over the traditional 27" is always nice to have for that extra little bit of height.
RETURN OF SERVE
Whether it was blocking back big first serves or hitting big returns off weak second serves, the racquet felt equally good. Because of its combination of being light, yet both powerful and stable, it is just as good for returns as it is for every other stroke.
CONCLUSION
Nothing more to say really, except after trying the 03 Speedport Red for a few days, I called Prince to let them know that I'm switching to this one.
You ought to give it a try as well. It really is a great racquet.
Return To Prince Tennis Racquet Reviews From Prince 03 Speedport Red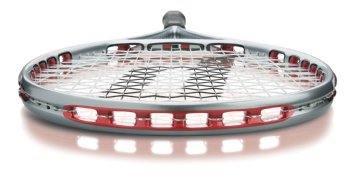 Share YOUR Thoughts On The Prince 03 Speedport Red
If you would like to share your thoughts on the 03 Speedport Red, please enter them below. Other readers would love to know what you think of the racquet.
What Other Visitors Have Said...
Click below to see contributions from other visitors to this page...

---