Rec. Strings: Lightning XX 16

Having played on the Tour with the Original Prince Graphite (and before that the Prince Woodie), it's always fun to try out any Prince MidPlus or OS racquet. The Prince 03 Speedport Blue, with a head size of 110 sq" and a racquet length of 27.5", is an oversized racquet.

One of three models in Prince's 03 Speedport Series, the Prince 03 Speedport Blue lies midway between the Prince 03 Speedport Red and the Prince 03 Speedport Silver.

Here's what I thought of it…

GROUNDSTROKES

With a power level of 1300, the Prince 03 Speedport Blue packs a little more pop than the less powerful 03 Speedport Red. It's also an incredibly light racquet with a very even balance. Combined with a head size of 110 square inches, like its predecessor the Prince 03 Blue, the Prince 03 Speedport Blue is an effortless racquet to play with.

Aside from being extremely powerful, I also found that it offered really good control off the ground. Admittedly, I didn't have quite as much control as with the Prince 03 Speedport Red or the Prince 03 Hybrid Hornet Midplus, but, once I got used to the racquet's extra range, I had no problem whatsoever hitting a consistent and accurate ball, with power to burn.

Same goes for generating spin; the improved aerodynamics and subsequent faster swing speed brought about by the new speedport technology, combined with a string bed that really grabs the ball, allows you to generate a tremendous amount of spin.

If I was stretched wide, I had no problem generating more than enough pace to hit passing shots; because of the racquet's light weight, I was always able to hit with the racquet speed I was looking for, which is not the case when playing with some of the heavier frames, particularly those that are head heavy.

What also surprised me was the racquet's stability. Sometimes, with very light racquets, off-center shots can be a real problem. Off center shots, particulary when playing hard hitting opponents, can knock the racquet around a little in your hand. Not so with the Prince 03 Speeedport Blue; there wasn't a hint of racquet "wobble" with any of my groundstrokes.

Neither was there a hint of any problem with touch shots. I loved the forgiving feel of the racquet and its huge sweetspot when hitting drop shots or delicate angles.

The shot that gave me the most difficulty, admittedly very minor, was my slice backhand. I pretty much always find that with powerful racquets, there is a tendency for me to hit slice backhands a little long. It's because I use the shot fairly aggressively, and I also like to play it close to the lines. It's also my most accurate shot.

For this reason, when I use any racquet other than my own (the Prince 03 Speedport Red), getting used to the range of a different racquet takes me longer on the slice than with any other stroke.

What I liked about the Prince 03 Speedport Blue is that even though there was an initial tendency to hit my slice long, the racquet behaved consistently, which made it relatively easy to adapt to the extra range.

Overall, I found the racquet to be a nice blend of power and control from the back of the court, with enough of each to recommend it to anyone who likes to play with a light, oversize frame, and who is looking for a racquet that is extremely comfortable to play with.

VOLLEYS

Around the net, the Prince 03 Speedport Blue is agile, stable and powerful. In short, it's an incredibly easy racquet to volley with. Whether it's hitting reflex volleys, stretching for well hit passing shots or putting away easy balls, the racquet's a pleasure to use around the net.

SERVING AND SMASHING

If you like getting an extra bit of help in the power and spin department, the swing speed and 27 ½" length of the Prince 03 Speedport Blue make for a very powerful, spin-producing serving racquet.

RETURN OF SERVE

Just as with groundstrokes, the Prince 03 Speedport Blue is a very comfortable racquet with which to return serve. I really liked its maneuverability when facing big serves. Last second improvisation when abbreviating my backswing or for dealing with difficult to return serves straight at the body were no problem.

And neither was smacking second serves that sat up begging to be hit for winners.

For those who like taking their returns early and following them into the net, this racquet is ideal, both for the return and for play around the net.

Once again, I've got to hand it to PRINCE for their cutting edge advances in racquet technology. There's no question that the speedport technology has helped the racquet's aerodynamics and increased the size of an already large sweetspot.

I would categorize the Prince 03 Speedport Blue as a 'Tweener racquet with an oversize head, best suited for club players with sound strokes looking for a little extra power, advanced players who like a combination of power and control, or advanced juniors with sound technique looking for some extra 'pop.'




SPECIAL OFFER

: Please click HERE For Details.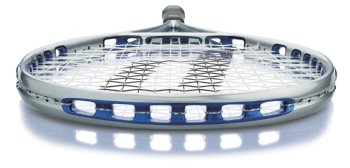 Return To Prince Tennis Racquet Reviews From Prince 03 Speedport Blue
---