Choosing A Tennis Racquet
A Guide
When you're choosing a tennis racquet, there are many things you have to consider. The power level, the amount of control, weight, grip size, balance, flex, head size, racquet length and string pattern are all factors in determining a racquet's playing characteristics and how comfortable it feels in your hand.

Below, I have put together a general guide that will make choosing a tennis racquet a little less daunting. I also suggest that you read my tennis racquet reviews to help you choose a racquet that's just right for you and your game.




POWER LEVEL

As a general rule, the more powerful a racquet is, the less control you'll get with it. There are three main categories of tennis racquets, designed to suit players of every ability level.

GAME IMPROVEMENT RACQUETS

The first category of racquets, those that tend to be the most powerful, are called Game Improvement Racquets. They are very light (9.5oz unstrung or lighter), have extra length (up to 2" longer than the standard 27") and they tend to have a large racquet head size (105-130sq" or more).
If you're an inexperienced or recreational player who has relatively short swings, you'll find these racquets very comfortable as they produce lots of power with very little effort. Because of the large head size, they have a big sweet spot, which is a great benefit to players who frequently hit "off-center" shots as racquet head stability isn't compromised and many mishits still feel as if you've hit the ball right in the middle of the racquet.
They are also arm and elbow-friendly because of the large sweet spot.
Game Improvement Racquets Suit The Following Players
Adult beginners with unformed, compact swings.
Adult club, recreational or social players with short swings.

'TWEENERS

The second category of racquets, those in the mid-power level range, are called "Tweeners". This is because they offer a nice mix of power and control. 'Tweeners are heavier (9.5-11.5oz unstrung) than Game Improvement Racquets, with smaller racquet head sizes (95-105sq") and a slightly longer frame than the standard 27" (27.25- 28").

If you're an intermediate to advanced player who likes a really comfortable, forgiving racquet with ample power, then you should give the 'Tweeners a try. Because of the enormous number of hours I spend on court each week, I personally love many of the racquets in this category, particularly those found in the PRINCE range, as I find them to be the most comfortable, mainly due to PRINCE'S O-Port and Speedport Technology.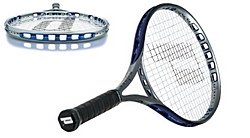 As a matter of interest, my racquet of choice is the Prince 03 Speedport Red, whose playing characteristics are perfectly suited to my game.
'Tweeners Suit The Following Players
Club players with sound strokes looking for a little extra power.
Advanced players who like a combination of power and control.
Advanced juniors with sound technique looking for some extra 'pop.'

PLAYERS RACQUETS

The third category of racquets is the players racquets. These racquets are heavier (11.5-13.5oz unstrung or more), have a smaller racquet head (85-100sq") and are usually of traditional length (27"). Although not nearly as powerful as Game Improvement Racquets or 'Tweeners, they are designed for advanced players who have no problem generating their own pace or spin, without too much extra help from the racquet. These racquets are made for players who are looking for a high degree of control.

If you're a player in this category, you'll no doubt be totally familiar with what to look for when choosing a tennis racquet. What you'll be seeking is a racquet that feels just right for you and your game. A racquet that gives you the feeling that the ball will behave off the strings exactly the way you expect it to.
Players Racquets Suit The Following Players
Highly advanced junior players with sound technique.
Good college level players and above.




Visit Tennis-Experts -- The Online Tennis Equipment Specialists





Be sure to subscribe to "Tennis Experts Specials And Alerts" newsletter to be the first to know what new tennis equipment has been released by the major international tennis manufacturers like Prince, Head, Yonex, Wilson, Dunlop and Gamma.

You will also receive a special code word that will entitle you, for a limited time, to a 10% discount at Tennis-Experts, the online tennis equipment specialists.










---