Wilson KSix-One Tour 90
Wilson KSix-One Tour 90 Tennis Racquet Review
by Chris Lewis, 1983 Wimbledon Finalist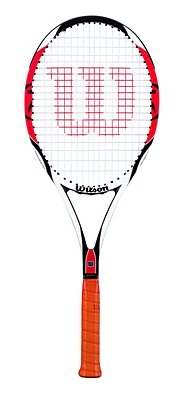 Specifications
Compositon: nCoded High Modulus Graphite / Carbon Black

Power Level:: Low

Length:: 27.0"

Headsize:: 90 sq in Midsize

Cross Section:: 18mm Straight Beam

Weight:: 11.5oz / 325g unstrung
Balance:: 9 Pts Head Light
Grip:: Wilson Leather

String Pattern: 16X19
The Wilson KSix-One Tour 90 racquet is a real player's racquet, and that's with a capital P.

Testing and reviewing it - a stick that's been designed and built for players who really expect a racquet to live up to an extremely high level of skill - was a real pleasure.

Here's what I thought of it…

GROUNDSTROKES

With a strung weight of 12.5 ounces, the Wilson KSix-One Tour 90 is definitely for players who know how to generate their own pace. But upon hitting my first ball with it, I was struck by the amount of feel the racquet offers. I was expecting a frame that was far stiffer and less forgiving. I couldn't have been more wrong.

The racquet is beautifully balanced, and although heavier than the racquet I play with, I had no trouble generating really good swing speed off the ground. In addition, what also impressed me was the racquet's sensitivity to the demands of accuracy and control. The feedback that my arm received upon the strings contact with the ball was the equal of anything I've played with.

There were no unpleasant surprises with this racquet. It behaved exactly the way I told it to. There wasn't a hint of anything other than 100% predictability of the way the ball responded upon contacting the strings. If I timed a shot perfectly, & hit it dead center, I felt as though I could hit as precisely as with anything I've ever played.

I also had the feeling I was almost "capturing" the ball on the strings, which made it easy to generate enormous spin. And with the solid weight of the racquet in behind my swing, I was able to hit a really heavy ball, but with absolute control.

Whether I was hitting heavily spun, looping forehands that bounced off the court with giant-sized hops, or slice backhands that lasered balls directly to where I told the racquet to send them, I couldn't help thinking that the Wilson KSix-One Tour 90 has some of the better characteristics of racquets that were around a number of years ago.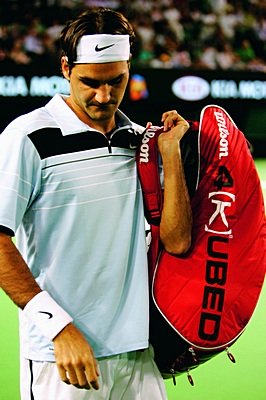 Don't get me wrong, I'm not suggesting that the Wilson KSix-One Tour 90 is a throwback to the past. Far from it. In fact, as a player's racquet, it's state of the art, offering a perfect blend of power (in the right hands) and control.
As long as I was centering my shots, the response was perfect. Because of the racquet's weight and solidity, I had no trouble finding the length I wanted. And because of its forgiveness and flex, neither did I have any trouble hitting shots that required decent touch.
On the other hand, off-center shots didn't respond quite the same way. The Wilson KSix One Tour 90 treated such shots with the disdain they deserved. The sweet spot, although relatively small, is truly sweet; however, any contact outside the sweet spot doesn't produce such happy results, which is exactly what you would expect from a racquet that demands such a high amount of skill from the players who use it.
VOLLEYS
As with my groundstrokes, I found the Wilson KSix-One Tour 90 to be a real players racquet. As someone who's very much at home at the net, I loved the way the ball responded upon contact with the strings. I had the feeling that the ball responded well to both the string bed and the flex of the racquet head and frame, allowing me that split second longer to dictate to the ball exactly where I wanted it to go.
Although I've played with more agile and maneuverable frames, I haven't played with a racquet that offers a higher level of comfort and control with volleys hit dead center. The Wilson KSix-One Tour 90 offers precision volleyers pinpoint accuracy. When my timing was perfect, the expression "having the ball on a string" came to mind.
With off center volleys, though, the racquet was a little more unforgiving than with my groundstrokes.
SERVING AND SMASHING
Once I got used to the weight and balance of the Wilson KSix-One Tour 90, I liked it for serving. I loved the feedback my arm received upon contact, which gave me a real feeling of control over both slice and kick serves. With flat serves, I wasn't able to generate the same racquet speed as with other racquets I've played with, but I was able to serve suitably heavy, accurate balls. The racquet not only has a really solid feel to it, but also a very satisfying level of forgiveness, as long as you hit the sweet spot.
As for smashing, like with any other midsize racquet, I found the 90" head size to be a little smaller than ideal. And even though I grew up playing with the Wilson Jack Kramer Pro-Staff, a wooden frame I continued using for a number of years on the pro tour, I still find it takes me a while to get used to a midsize head for smashing after playing with either midplus or oversize frames for a number of years.
RETURN OF SERVE
Whether blocking back big first serves or attacking second serves, I got exactly the response I expected.
The area I had a little trouble with was attempting to attack a first serve with a full-blooded swing. I couldn't maneuver the frame as quickly as I would have liked, but this limitation was offset by the accuracy I had when using abbreviated backswings to re-direct first serves.
The Wilson KSix One Tour 90 is ideal for players who are equally comfortable returning aggressively or relying on placement to neutralize an opponent's serve.
CONCLUSION
The Wilson KSix-One Tour 90 rewards highly advanced players with a feeling of total confidence in achieving a totally predictable response. It is an extremely solid racquet, has a very high level of comfort, and provides great feedback to the player upon the strings making contact with the ball.
But to get the most out of it, players really have to know their way around a tennis court.
It is not a racquet for intermediate level players, and neither is it a racquet for young juniors, highly promising or otherwise. The Wilson KSix-One Tour 90 is for players who generate all their own pace, and who have highly developed ball control skills.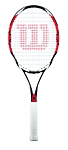 Share YOUR Thoughts On The Wilson K Factor K Six-One Tour 90
If you would like to share your thoughts on the Wilson K Factor K Six-One Tour 90, please enter them below. Other readers would love to know what you think of the racquet.
What Other Visitors Have Said...
Click below to see contributions from other visitors to this page...

debenny

This racket surpasses anything i've ever played with by a country mile. i gelled with it from day one and have found it immensely rewarding. i've achieved …
Tim Not rated yet
Hi, I'm, a 4.5-5.0 level tennis player and looking to buy two or three of these racquets. Reading this review it sounds well suited to me. I generate my …
---