DUNLOP
TENNIS RACQUETS

DUNLOP TENNIS RACQUETS
INTRODUCTION
Dunlop has been a leading manufacturer of tennis racquets and tennis equipment for seventy years. Its track record speaks for itself.
One of the most successful brands in the history of tennis, Dunlop tennis racquets have won more Grand Slam tennis tournaments than any other brand. John McEnroe and Steffi Graf won several Grand Slam events using Dunlop tennis racquets, as did two time calendar year Grand Slam winner (1962 and 1969), Rod Laver.
Today, tour players using Dunlop tennis racquets include top tenner, James Blake, former world number two on the men's tour, Tommy Haas, Tommy Robredo and Tomas Berdych and 2002 Australian Open Champion, Thomas Johansson.
John McEnroe, a regular player on the Seniors Tour, and occasional doubles participant on the regular tour (he won an ATP doubles event in 2006 with Jonas Bjorkman), also uses Dunlop tennis racquets.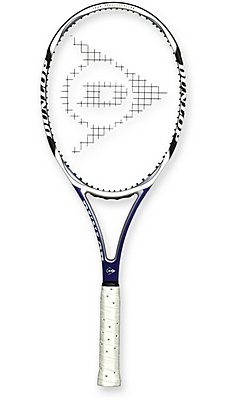 DUNLOP TENNIS RACQUETS 2008
The 2008 Dunlop tennis racquet range offers state of the art technology due to the introduction of Dunlop Aerogel, an innovative substance Dunlop uses in their four aerogel models: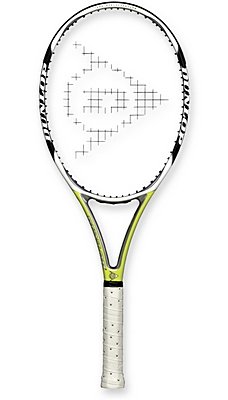 Aerogel's remarkable characteristics of extreme strength and very light weight (it's listed in the Guinness Book of World Records for its properties) make it well suited for modern tennis racquet technology. Being the lightest solid on earth -- weighing in at only three times the weight of air -- and with strength four thousand times its own weight, Dunlop Aerogel racquets create power and control without adding any weight to the frame.
Aerogel Facts
- Invented by Steven S. Kistler at the college of the Pacific in Stockton, CA.
- Made up of pure silicon dioxide and sand, as is glass, but a thousand times less dense than glass because it is 99.8 per cent air - the lowest density of any solid known to man.
- One piece of Aerogel the size of a human body weighs less than a pound, but can support the weight of a car.
- Nearly transparent -- like a hologram.
- Nicknamed "Frozen Smoke"
- Used by NASA's Jet Propulsion Laboratory to gather comet particles traveling six times the speed of a rifle bullet.
- Called "Technology To Watch" by Fortune Magazine
- Listed as a "Best Invention" by TIME Magazine
- Cited 15 times in the Guinness Book of World Records
OTHER DUNLOP TENNIS RACQUETS 2007
Be sure to subscribe to "Tennis Experts Specials And Alerts" newsletter to be the first to know what new tennis equipment has been released by the major international tennis manufacturers like Prince, Head, Yonex, Wilson, Dunlop and Gamma.

You will also receive a special code word that will entitle you, for a limited time, to a 10% discount at Tennis-Experts, the online tennis equipment specialists.
---