String Pattern: 18X20

INTRODUCTION

Below is TENNIS magazine's racquet review of the Dunlop Aerogel 3Hundred. The review appeared in the April, 2007 issue.

COMPARES TO

Dunlop M-Fil 3Hundred

HOW IT TESTED

Say you're a good player and you don't want a racquet with too much heft and a tiny sweet spot. The Dunlop Aerogel 3Hundred might be for you.

It doesn't have the control of a traditional player's racquet, but it's easier to handle and has a smaller learning curve. The addition of Aerogel, the world's lightest solid material, provides stiffness, stability, and plenty of pop without making the racquet cumbersome and head heavy (the traditional way of beefing up a racquet's power).

This keeps the weight more than manageable, allowing you to make big cuts at the ball.

If you're a high level player who must return big power shots, keep in mind that the frame can be unstable on off-center hits.

Those looking for a little extra sturdiness might want a touch more weight, which makes the Dunlop Aerogel 3Hundred a good candidate for some lead tape.

Bottom Line: If you want a racquet that's player oriented, but you need more juice and less weight, this is an excellent option.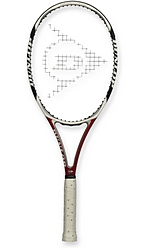 Be sure to subscribe to "Tennis Experts Specials And Alerts" newsletter to be the first to know what new tennis equipment has been released by the major international tennis manufacturers like Prince, Head, Yonex, Wilson, Dunlop and Gamma.

You will also receive a special code word that will entitle you, for a limited time, to a 10% discount at Tennis-Experts, the online tennis equipment specialists.
---