String Pattern: 18X20

INTRODUCTION

Below is TENNIS magazine's racquet review of the Dunlop Aerogel 2Hundred. The review appeared in the April, 2007 issue.

COMPARES TO

Dunlop M-Fil 2Hundred

HOW IT TESTED

The Dunlop Aerogel 2Hundred series has always been designed with the most discriminating and talented players in mind.

Though the latest version, the Aerogel, is more user friendly than its predecessors, it's no exception. It's slightly lighter than the M-Fil 2Hundred, plus the addition of Aerogel (an extremely light and strong material) to the top and bottom of the racquet face enhances power and playability.

Still, you've got to be able to handle the weight, provide your own pace, and routinely find the sweet spot in order to appreciate this frame.

Players who can will be rewarded with a consistently solid response from all parts of the court. Those who aren't as proficient with their mechanics should look elsewhere.

Spin production is moderate, but that's to be expected with a dense (18x20) string pattern. But free swinging baseliners who appreciate knowing when they miss the sweet spot will like the frame's feedback.

Dunlop Aerogel 2Hundred Bottom Line: If you've got a big time game, the Dunlop Aerogel 2Hundred will measure up to your standards.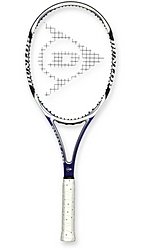 Be sure to subscribe to "Tennis Experts Specials And Alerts" newsletter to be the first to know what new tennis equipment has been released by the major international tennis manufacturers like Prince, Head, Yonex, Wilson, Dunlop and Gamma.

You will also receive a special code word that will entitle you, for a limited time, to a 10% discount at Tennis-Experts, the online tennis equipment specialists.
---