Stephanie Hazell
Woodbridge Tennis Club Junior Program
Stephanie Hazell - A Personal Profile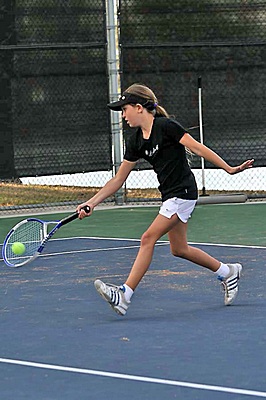 Stephanie Hazell playing a forehand


Birthday: 3-16-1997
Residence: Orange County, Southern California
Started Playing : 5 1/2 years old
Favorite Player: Kim Clijsters
Hobbies: Soccer, Basketball, Softball, Piano, Vocal, Golf and Horsebackriding
Ambition: "To be a pro tennis player or softball player or a lawyer."
Favorite Music: Hillary Duff
Favorite Tournament: Little Mo
Tennis Racquet: Prince 03 Speedport Red
Southern California 2006 End Of Year Ranking(Girls 10's): 28
Tournament Results:
10's
Winner - SCTA JR Satellite Masters (01-14-2006)
Winner - 35TH Annual Knowlwood Junior Tournament (07-27-2006)
Winner - Oxnard Tennis Center Junior Tournament (08-05-2006)
Winner - 2nd Annual SCTA Desert Cities Grand Prix Masters (10-28-2006)
Final - Palm Valley Junior Championships (12-02-2006)

A member of the Woodbridge Tennis Club Junior Program, the multi-talented Stephanie Hazell somehow finds time to play just about every sport -- and she's good at all of them. At Woodbridge, we're glad that she's able to fit tennis into her busy schedule.

To find out more about the Woodbridge Tennis Club Junior Tennis Program, please click here!





---