Melissa Huang
Woodbridge Tennis Club Junior Program
Melissa Huang - A Personal Profile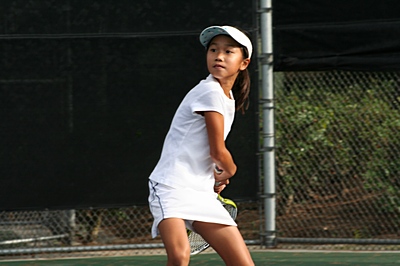 Melissa Huang -- highly ranked Southern Cal junior player


Birthday: 1-1-1996
Residence: Tustin, Orange County, Southern California
Started Playing : 4 years old
Favorite Player: Maria Sharapova
Hobbies: Drawing and watching "Naruto"
Ambition: To become a doctor
Favorite Music: Pop (Kelly Clarkson)
Favorite Tournament: Lakewood and JP Yamasaki
Southern California Ranking :
Girls 10's: 9 - Oct 2006
Girls 12's: 66 - Oct 2006
Tournament Results:
Girls 10's
Winner - 15th Annual So Cal Christmas Jr Tournament (12-27-05)

Girls 12's
Winner - 28th Annual North Orange County Jr Satellite (5-27-2006)

Melissa, Woodbridge Tennis Club Junior Program member, "likes playing doubles as well as singles". She's a highly promising tennis player, whose ambition is "to become a doctor". Her opponents are all very pleased for her!

To find out more about the Woodbridge Tennis Club Junior Tennis Program, please click here!





---