Mayo Hibi
Woodbridge Tennis Club Junior Program
Mayo Hibi - A Personal Profile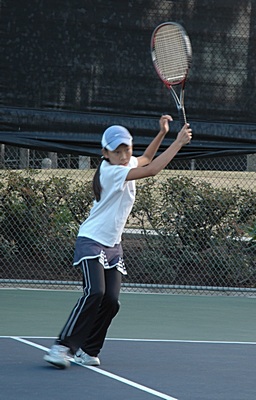 Mayo Hibi Follows Through On A Forehand


Birthday: April 3, 1996
Residence: Irvine, Orange County, Southern California
Started Playing : 4
Favorite Players: John McEnroe, Stefan Edberg, Pete Sampras
Hobbies: Tennis
Ambition: "To be A Wimbledon Champion"
Favorite Music: My Dad's Songs (He Composed Them)
Favorite Tournament: Wimbledon
Southern California Ranking Tentative End of Year Ranking:
Girls 10's - 2
Girls 12's - 37
Tournament Results:
10's
Semi Final - Esme Pearson Memorial Tournament (01-07-2006)
Semi Final - 61st Annual Fullerton Tournament (02-04-2006)
Final - 25th Annual Woody Hunt Memorial South Bay (03-04-2006)
Winner - 50th Annual Long Beach Junior Tournament (03-18-2006)
Semi Final - 72nd Annual Harper Ink Memorial (04-01-2006)
Final - 22nd Annual Anaheim Tennis Center Jr Tournament (05-06-2006)
Semi Final - 104th Annual Southern California Junior Sectionals ((06-17-2006)

12's
Winner - 1st Annual Fullerton Tennis Center Jr Topen (08-07-2006)
Winner - 30th Annual Cerritos Summer Jr Tournament (08-12-2006)
Winner - 43rd Annual Anaheim Jr Tournament (12-02-2006)

Mayo Hibi, Woodbridge Tennis Club Junior Program member, loves tennis because it is a "fun sport". She is also one of the hardest working junior tennis players I've ever seen. With her work ethic, rapid progress is guaranteed. For details, watch this space.

To find out more about the Woodbridge Tennis Club Junior Tennis Program, please click here!





---