Maxwell Cancilla
Woodbridge Tennis Club Junior Program
Maxwell Cancilla - A Personal Profile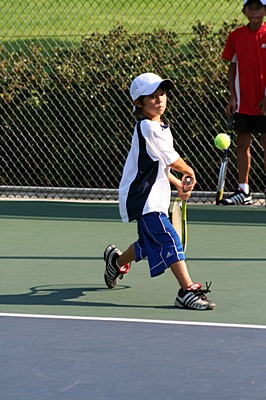 Maxwell Cancilla - Winner of Little Mo International Boys 8's (2006)


Birthday: 05-10-1998
Residence: Huntington Beach, Orange County, Southern California
Started Playing : 6 years old
Favorite Player: Roger Federer
Hobbies: Soccer, Violin
Ambition: "To be a tennis pro"
Racquet: Prince O3 Hybrid Hornet
Favorite Music: Classical
Favorite Tournament: Little Mo Championshps
Southern California Ranking (10's): Oct 2006 - 17 Dec 2006 - 12
Maxwell Cancilla - Southern California Sectionals Triple Crown Winner (2008)

Tournament Results:
Boys 8's
3rd Place - Little Mo 8's Nationals (10/21/2006)
Winner - Little Mo International Boys 8's (12/7/2006)
Boys 10's
Winner - 3rd Annual Ramada Jr Open Tournament (02/11/2006)

Winner - 11th Annual Fountain Valley Jr Sat. Tournament (02/18/2006)
Winner - 6th Annual Hermosa Beach Tennis Jr Sat. Classic (03/25/2006)
Winner - 27th Cerritos Spring Jr Tournament (05/13/2006)
Winner - 8th Annual Ramada Jr Tournament(09/02/2006)
Winner - 43rd Annual Northridge-Matador Jr Tournament (09/23/2006)
Maxwell Cancilla, 2008 Southern California Sectionals 10's Triple Crown Winner, training at the Woodbridge Tennis Academy in Irvine, California
When Maxwell's not at school, doing homework, practising his violin or playing soccer, you'll find him on the tennis courts at Woodbridge. Which is most of the time!
To find out more about the Woodbridge Tennis Club Junior Tennis Program, please click here.
---