Kevin Pham
Woodbridge Tennis Club Junior Program
Kevin Pham - A Personal Profile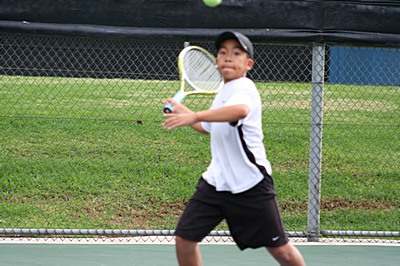 Kevin Pham


Birthday: 4-11-95
Residence: Orange County, Southern California
Started Playing : 9 years old
Favorite Player: Richard Gasquet
Hobbies: Piano, Viola
Ambition: "Number 1 in the world by 20"
Favorite Music: Classic Rock
Racquet: Prince O3 Speedport Black
Favorite Tournament: French Open
Southern California Ranking:
Boys 12's: 96 - October 2006
Tournament Results:
10's
Winner - Lakewood Seal Beach Jr Satellite Tournament (12-10-2005)

12's
Semifinalist - 14th Annual Arcadia Jr Satellite Tournament (5-20-2006)
Finalist - 21st Annual Anaheim Hills Open Jr Tournament (6-3-2006)
Winner - City of Orange Jr Satellite Tournament (7-20-2006)
Semifinalist - 14th Annual Costa Mesa Summer Jr Classic (7-24-2006)

A member of the Woodbridge Tennis Club junior program, Kevin started playing tennis two years ago. Since then, he's made -- and continues to make -- huge improvement.

To find out more about the Woodbridge Tennis Club Junior Tennis Program, please click here!





---