Jamie Zillman
Woodbridge Tennis Club Junior Program
Jamie Zillman - A Personal Profile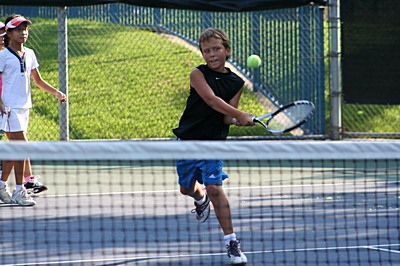 Jamie hitting another winner


Birthday: 8-21-1995
Residence: Orange County, Southern California
Started Playing : 7 years old
Favorite Player: Jamie Zillman
Hobbies: Drawing, Football
Ambition: "To be top 5 in the twelves"
Favorite Music: Rock
Racquet: Prince O3 Speedport Red
Favorite Tournament: Anaheim, French Open
Southern California Ranking (12's): Oct 2006 - 98
Tournament Results:
10's
Winner - Palm Valley Jr Championships (12/03/2005)

12's
Semi-Finalist - 21st Annual Anaheim Hills Open Jr Tournament (06/03/2006)
Runner-Up - 52nd Lynn Scott Memorial Riverside Tournament (09/23/2006)

Before moving into the 12's in August, Jamie reached a high of 9 in the Boys 10's Southern California Junior rankings. His short term goal is to reach the "top 5 in the 12's."

To find out more about the Woodbridge Tennis Club Junior Tennis Program, please click here!





---