Gannon Daynes
Woodbridge Tennis Club Junior Program
Gannon Daynes - A Personal Profile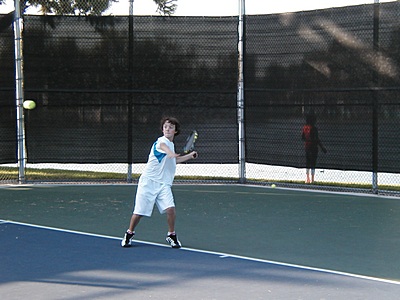 Gannon Daynes


Birthday: April 4, 1994
Residence: Trabuco Canyon, Orange County, Southern California
Started Playing : 4
Favorite Player: Andre Agassi
Hobbies: Paintballing
Ambition: "To Be"
Favorite Music: Classic Rock
Favorite Tournament: Zonals
Southern California Tenative Year End Ranking 2006 (12's): - 46
Tournament Results:
12's
Winner - 8th Annual Laguna Niguel Junior Open (6-12-2006)
Semi-Final - 11th Annual Orange County Junior Tournament (8-24-2006)
Final - 26th Annual SCTA K-Swiss Grand Prix Maters Champs. (10-14-2006)

Gannon Daynes, fast improving Woodbridge Tennis Club Junior Program member, loves to play tennis. Whether it's practising on the courts at Woodbridge or competing in tournaments, Gannon always gives his best. With his attitude, he can't help but continue to make further rapid progress.

To find out more about the Woodbridge Tennis Club Junior Tennis Program, please click here!