Buying Tennis Shoes
A Guide
What To Look For When Buying Tennis Shoes . . .
Lateral Support
Tennis requires explosive changes of direction. At all costs, avoid tennis shoes that don't have adequate lateral support. You want shoes that hold the foot steady, not a pair in which your feet feel insecure when you're moving. You'll not only move better, you'll also prevent tennis injuries.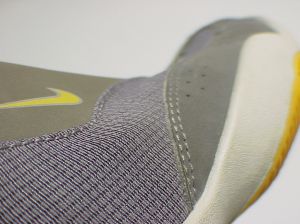 Buying tennis shoes that have specially designed lacing systems for enhanced lateral support is a good idea. Also, broad outsoles and sturdy uppers are highly desirable, particularly if you've got a large build. If you've got weak ankles, but don't like wearing ankle braces, consider wearing hi-tops.

Cushioning

The two main materials used for cushioning of tennis shoes are polyurethane and EVA. Polyurethane is heavier, but more durable. EVA, although lighter, is less stable. I prefer polyurethane because of the extra stability.

The variation in the shock absorption capacity of both men's and women's tennis shoes is significant. You should look for shoes that provide good cushioning, but that aren't so soft that they give you negative support.

Comfort

You want shoes that are comfortable. Things to look for are adequate tongue padding so that the laces don't bite into you. If you've got flat feet, you'll most likely be more comfortable in something softer. If you've got arched feet, look for a firmer shoe.

To avoid blisters, break in your new shoes by wearing them around the house before you play in them. This will also enable you to identify any trouble spots.

Sole Type

The major consideration here is court surface.




For hardcourts, the traditional herringbone pattern is the best. For grasscourts, see if you can get tennis shoes with the small rubber studs that will prevent you from slipping. For indoor carpet, you'll need completely smooth soles so that your feet don't "grab", which causes excess stress on the ankles and knees. For clay, get recommended clay court shoes, which allow you to slide effectively.

If you use excessive toe drag on your serve, look for shoes with heavy exterior protection in the toe area. Also, make sure that the area under the ball of the foot, which is where most pressure is exerted, is well padded.

Size

In choosing the correct size, there are three considerations: length, width and height.

Tennis shoes that are too big will cause blisters. If they're too small, they'll crush your feet, which can cause permanent damage.

Once you've found the ideal size, remember that over a lifetime, your feet change in size and shape. As you get older, your feet tend to collapse and spread out. It's a good idea to periodically measure your feet.

General

Don't be tempted to buy a non-tennis shoe, no matter how appealing they look. You won't get the right support or grip, and chances are you'll end up hurting yourself.

If you want to check out a brand that is perfect for you, I've put together a web page that provides all the information you'll ever need for buying tennis shoes at the cheapest prices, online or offline. Click buying tennis shoes for men or buying tennis shoes for women for the best range of tennis shoes at the best prices on the net.

You might also like to read what I've got to say about the best shoe that I've ever worn by clicking here.





Be sure to subscribe to "Tennis Experts Specials And Alerts" newsletter to be the first to know what new tennis equipment has been released by the major international tennis manufacturers like Prince, Head, Yonex, Wilson, Dunlop and Gamma.

You will also receive a special code word that will entitle you, for a limited time, to a 10% discount at Tennis-Experts, the online tennis equipment specialists.








---