Hi-Tec V-Lite Phantom
Hi-Tec V-Lite Phantom...
My Personal Favorite
Because of the time I spend on-court -- upwards of fifty intense hours per week on hard courts with some of Southern California's top junior players -- there are few people around who know more about the value of having a high quality tennis shoe than me.
Over the course of my career, both as a touring pro (I was the number one junior tennis player in the world in 1975, and a Wimbledon finalist in 1983) and as a professional tennis coach, I have played with virtually all the major brands of tennis shoes.
I've also been fortunate enough to experience first-hand the benefits that modern tennis shoes have afforded players around the world as tennis shoe technology has evolved.
For instance, I can remember in the seventies when, after a long match on a hard court, my body would feel so stiff and sore that I could hardly walk the next day. I'm not kidding.
I'm also not kidding when I say that I wouldn't have twisted my left ankle five or six times if I'd been wearing today's products instead of -- by today's standards -- the low quality tennis shoes of the past.
Which is why, these days, the only tennis shoes I'll wear are those that most successfully combine not only the best cushioning with the best lateral support, but those that are also extremely light.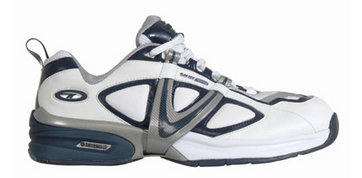 My current favorites are the Hi-Tec V-Lite Phantoms, which I've been wearing since late June, 2006. Not only do they meet my requirements (and more), they've also proved to be incredibly durable as I'm still wearing my first pair after three months of heavy play.





---