Tennis Magazines
Recommendations, Latest News,
Articles, Instruction and Tour Coverage

If you're as passionate about tennis as I am, you most likely enjoy reading tennis magazines. I don't know about you, but, over the years, I've enjoyed some of my greatest reading pleasure buried in their pages.
My all time favorite publication is the king of the tennis magazines, the US published "Tennis". My second favorite, although it is a little expensive, particularly for non-Australian subscribers, is Australia's high quality publication, Australian Tennis.

There are also other good magazines, like the English publication, ACE, but it's hard to beat the up-to-date news, features, articles, reviews and pro tour coverage found in Tennis.

In fact, if all "Tennis" ever published was articles by the superb writer, Peter Bodo, the subscription would be more than worth it.
Another worthwhile publication is Tennis Week.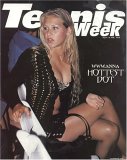 The online version is extremely topical, so I make a point of visiting it every two or three days. I always find something of interest there. I'm sure you will too!
There is one new publication that looks as though it's here to stay. Readership is growing quickly, and if the online version is any indication, Tennis Life Magazine looks as though it will be very competitive.
Oh . . . there's just one more thing, if tennis books interest you, pay a visit to my books page, where I'll give you my thoughts on the biographies of Jimmy Connors and Ilie Nastase.
Until then . . .happy reading.
---