Prince Tour 16 Silver
Tennis String Review
By Chris Lewis, 1983 Wimbledon Finalist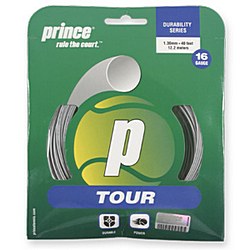 I tested Prince Tour 16 Silver in both a Prince 03 Speedport Tour (Speedport version) and a Prince 03 Speedport Black (Speedport version). The tension I used in both racquets was 64lbs. I played with the strings for over 30 hours.

As I play mostly with synthetic gut, it took me a little while to get used to the very different feel of this Prince monofilament string. Initially, the string felt "hard" to both my hand and arm. Gradually, though, as I became more familiar with the response, I found myself liking the string more and more.

Although this definitely is not a string that should be used by players who have games that rely on touch and finesse, it's a string that will appeal to players with fast swings who like to play with lots of power.

In particular, I found that I got the most out of the string by using a massive amount of swing speed to generate tons of power and spin, while still feeling totally in control. Additionally, there is very little to no string movement, which is always a nice feature.

After playing and becoming familiar with any string, it's always interesting to return to the string that I'm used to, which is Prince Synthetic Gut 16 with Duraflex. After playing with the Prince Tour 16, my own string felt much softer and responsive, but I found myself missing the feeling of control that the Tour 16 gave me when hitting my hardest shots.

Finally, I was also most impressed with the Prince Tour 16 Silver's durability. I fall heavily into the "string breaker" category, so getting six hours of play per set of string was impressive as synthetic gut lasts me between one and two hours.




Visit Tennis-Experts -- The Online Tennis Equipment Specialists





Be sure to subscribe to "Tennis Experts Online Store Specials And Alerts" newsletter to be the first to know what new tennis equipment has been released by the major international tennis manufacturers like Prince, Head, Yonex, Wilson, Dunlop and Gamma.

You will also receive a special code word that will entitle you, for a limited time, to a 10% discount at Tennis-Experts, the online tennis equipment specialists.





---