String Pattern: 16x19

INTRODUCTION

The Prince 03 Speedport Black is a player's racquet that not only incorporates Prince's 03 Speedport technology but also the patented new Speedport Tuning System -- STS.

SPEEDPORT TUNING SYSTEM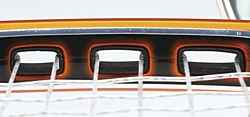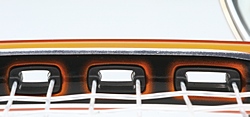 The Speedport Tuning System was inspired by touring pros, and is found only in the Prince 03 Speedport Tour and Prince 03 Speedport Black. STS gives you the ability to fine tune your racquet by utilizing interchangeable string inserts for the exact feel and sound you prefer.
HOW IT WORKS
Every new Prince 03 Speedport Black will come complete with two sets of inserts to be placed at 12, 3 and 9 o' clock. These inserts will offer options for tuning a racquet to your own preferences.
String Port Inserts (pre-installed) -- The String Port inserts will provide a softer hitting feel, more string damping and a sweet spot up to 59% larger than a traditional racquet while capitalizing on a racquet that moves up to 24% faster through the air.
String Hole Inserts -- The String Hole inserts have tradional, pin-sized string holes incorporated into the Speedport Opening. These inserts provide a firmer hitting feel, more string feedback and a more traditional sweet spot while still capitalizing on the aerodynamic benefits 03 Speedport technology provides.
PRINCE 03 SPEEDPORT BLACK RACQUET REVIEW
The Prince 03 Speedport Black tennis racquet makes the game a pleasure to play.
Here's why…
GROUNDSTROKES
Other than the simple, yet eye-catching cosmetics of Prince's 03 Speedport Black, the first thing you notice when playing your first groundstroke is the distinctive sound it makes as you swing. And the faster the swing, the more satisfying the sound.
Having previously tested and reviewed all of Prince's Speedport range, including the Prince 03 Speedport Tour, the sound of the 03 Speedport Black as it literally sliced through the air caught me by surprise. I loved it.
Not only was my arm letting me know how much racquet speed I was generating, but also my ears were also picking up the sensory data that added another dimension to the enjoyment of playing the game.
The 03 Speedport Black has the unmistakable feel of Prince's Speedport Technology, with the racquet's playing characteristics placed midway between the Prince 03 Speedport Red and the Prince 03 Speedport Tour.
Off the ground, I found it to be a superb racquet for many things, but generating spin was at the top of the list. The weight, balance and speedport technology combine to produce a racquet that lets you hit with enormous swing speed. Even better, I was able to take massive swings on my forehand, while still retaining really good control of my shots.
One other thing the Prince 03 Speedport Black seems made for is hitting vicious, sharply angled shots that "hop" off the court beautifully.
Initially, for slice backhands, I couldn't achieve total accuracy, but as I became more familiar with the racquet's behaviour, I started to hit the shot really well. The thing I found most difficult with the slice was to resist swinging the racquet too fast through the air. The sound that the Prince 03 Speedport Black makes as you swing tempts you to swing faster and faster, just for the satisfaction of hearing the sound of pure speed as the aerodynamic frame defies the air's resistance.
Being a highly agile racquet, I also found it to be very useful for playing wide defensive shots that required a lot of wrist and very little arm. The racquet also has a solid, but nice, feel to it when the ball hits the strings, providing both a high level of comfort and plenty of feedback to the hand and arm. Which is also why touch shots weren't a problem.
VOLLEYS
For volleying, I like a racquet that is stable, maneuverable and not overly stiff. The Prince 03 Speedport Black excels in all three areas, with the added bonus of the typically large speedport sweet spot.
I found myself playing volleys with a high degree of feel to them, as opposed to crisp volleys with a less forgiving racquet. The high level of comfort really made me feel like the Prince 03 Speedport Black was an extension of my arm, and I caught myself looking forward to the ball's impact on the strings as it felt so easy to control it.
SERVING AND SMASHING
When serving and smashing with the Prince 03 Speedport Black, the word "Whisperjet" came to mind. The aerodynamics and subsequent sound gave me the feeling that my arm was jet propelled, a significant part of which was no doubt illusory, but extremely satisfying all the same.
Whether hitting flat, slice or kick serves, there was no question that the racquet contributed more than its fair share of the work. As with my groundstrokes, I found the Prince 03 Speedport Black to be particularly useful for generating a very generous amount of racquet speed which translated directly into imparting a healthy amount of heavy spin.
Which is not to suggest that the racquet's only appeal is to players who rely on spin serves. Far from it, I also really enjoyed going for big flat first serves with the Prince 03 Speedport Black as it's a very even-tempered racquet that plays with far better than average predictability.
Same goes for smashing. Any mid plus racquet that's as easy to handle as the Speedport Black is going to be a pleasure to hit overhead winners with. Nothing further to say in this department other than 10 out of 10.
RETURN OF SERVE
For returning serves, one of the The Prince 03 Speedport Blacks many strengths is it allowed me to swing aggressively at fast serves, which I would normally have to counter with a more abbreviated stroke with many other frames.
When returning really big serves, as with any other relatively light racquet (the Prince 03 Speedport Black is 10.6 oz unstrung), I had to use a less compact stroke than with a heavier frame, but I had no complaints about the racquet's stability upon string contact with the ball.
On a more attacking note, it was also great for dealing with second serves as I could take the initiative with aggressive, long swings while still retaining excellent control because of the racquet's spin-friendly nature.
CONCLUSION
The Prince 03 Speedport Black has broad appeal to a wide range of players. It's light enough to be appropriate for promising juniors, while at the same time, it's enough of a player's racquet to appeal to skilled adults.
I wasn't able to find any weaknesses, but I had no trouble identifying a number of attributes that I loved. It looks great, it's powerful and accurate, it has excellent swing speed, a huge sweet spot, it's very stable, spin-friendly and it's also a comfortable racquet that's very easy on the arm.
In addition to its advanced aerodynamics, the Prince 03 Speedport Black also comes fully equipped with its own distinctive sound as it whooshes through the air before making ever so sweet contact with the ball.
I'm confidently predicting that the Prince 03 Speedport Black is going to be a big winner for Prince.
Purchase Your Prince 03 Speedport Black At My Store


Return To Prince Tennis Racquet Reviews From Prince 03 Speedport Black
Share YOUR Thoughts On The Prince 03 Speedport Black
Other readers would love to know what you think of the Prince 03 Speedport Black. Please feel free to share your thoughts with them. You'll even get your own web page.
What Other Visitors Have Said
Click below to see contributions from other visitors to this page...

Mike Joystersembes

I am probably a 4/5 player, and I was wondering if I should get the Prince 03 Speedport Black or the 03 Speedport Tour because I think the Black is for …
---