Gamma Asterisk Strings
GAMMA Asterisk tennis strings are a nylon string with a center core made up of six large wedge-shaped filaments that are arranged in the shape of an asterisk (hence the name).
These fibers are encased in a high tenacity polyamide matrix that is surrounded by an outer wrap. As you might expect, Gamma applies its patented TNT2 processing to Asterisk.
Gamma claims that Asterisk holds tension and offers superior playability longer, has crisp vibration-free feel for ultimate comfort, is extremely resilient for extra power and added control, has improved ball bite for spin and slice, and is easy to install.
Gamma tells us that Asterisk is for players of all ability levels, from NTRP 2.5 on up.
Asterisk is available in 16 (1.30), 17 (1.27), and Spin 16 (1.30) gauge in natural only.
IN THE LAB
We tested the 16-gauge Asterisk. The coil measured 40' 2". The diameter measured 1.29-1.32 mm prior to stringing, and 1.24-1.26 mm after stringing. We recorded a stringbed stiffness of 72 RDC units immediately after stringing at 60 pounds in a Wilson Pro Staff 6.1 95 (16 x 18 pattern) on a constant-pull machine.
After 24 hours (no playing), stringbed stiffness measured 63 RDC units, representing a 13 percent tension loss. Our control string, Prince Synthetic Gut Original Gold 16, measured 78 RDC units immediately after stringing and 71 RDC units after 24 hours, representing a 9 percent tension loss. Asterisk added 14 grams to the weight of our unstrung frame.
The string was tested for five weeks by 40 USRSA playtesters, with NTRP ratings from 3.0 to 6.0.
These are blind tests, with playtesters receiving unmarked strings in unmarked packages.
Average number of hours playtested was 32.1.
Gamma claims easy installation for Asterisk, and it's correct:
This would be a great string to use in a speed stringing competition. It feels smooth and soft, so it floats through grommets and crosses glide across the mains, but we had no problem with blocked holes.
No playtester broke his sample during stringing, one reported problems with coil memory, one reported problems tying knots, and two reported friction burn.
ON THE COURT
Our playtest team agreed that Gamma Asterisk is a comfortable string to use, ranking it seventh place overall out of the 113 strings we've playtested to date. Our playtesters also ranked Asterisk well above average for Playability, Power, Control, Touch/Feel, and Spin Potential, and above average for Durability.
Five playtesters broke the sample during play, one each at .5, 5, 8, 9, and 16 hours.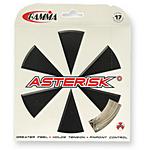 CONCLUSION
It has been a couple of years since we tested a string that was this easy to install. In fact, our playtest team's rankings make Gamma Asterisk the second easiest string we've tested to date.
This is especially significant considering how many positive comparisons our playtesters made of Asterisk's playability versus natural gut. Bolstering this comparison is Asterisk's high score in the Comfort category, accompanied by well above- average scores in other key categories.
The above review of Gamma Asterisk Strings appeared in the August 2007 issue of Racquet Sports Industry and was written by Greg Raven.
---
| | |
| --- | --- |
| | Asterisk |
For over three decades GAMMA has been the leading innovator in string technology. Following in the tradition of this innovation, GAMMA engineers have developed an exciting and unique entry into the string market, named Asterisk*. GAMMA Asterisk*, the newest high-tech multifilament string, offers superior playing characteristics with the added benefit not found in most multifilament strings, superb tension maintenance. GAMMA Asterisk* features a unique high energy core consisting of an Asterisk* multifilament center encased by a high tenacity polyamide matrix. This new innovative core design combined with the patented TNT2 processing offers the following benefits:
• Holds tension longer and offers superior playability longer
• Crisp vibration-free feel for ultimate comfort
• Extremely resilient for extra power and added control
• Improved ball bite for spin and slice
• Easy to string
---
GAMMA SPORTS: The Fastest Growing Racquet Sports Company in the World
Dr. Harry Ferrari, a nuclear engineer and avid tennis player, founded Gamma Sports in 1974 to create a synthetic gut tennis string that would embody the durability and playability of natural gut strings.
Gamma synthetic string, engineered with a patented process, revolutionized the game of tennis and has been ranked the number 1 string for 23 years straight. Gamma Sports markets and sells an entire line of over 5,000 products including Fischer racquets, children's tennis gear, tennis balls, Ballhopper® products, replacement grips, overgrips, vibration dampeners, court equipment, therapy products, and racquet accessories, all engineered to the same exacting standards as the award-winning string line.
Gamma Sports is the Official string, Accessory and Court Supplier of Professional Tennis Registry. PTR is the world's largest international organization of tennis teachers & coaches, with over 11,400 members worldwide. Gamma Sports is based in Pittsburgh, PA.
---