Wimbledon LIVE
Video On Demand
Click HERE to see Wimbledon LIVE & On Demand – Watch EVERY match online, singles and doubles!
A New Partnership

Expert Tennis Tips is proud to announce a new partnership with leading global online broadcaster, Mediazone, who, together with the All England Lawn Tennis & Croquet Club, recently announced the renewal of their agreement to deliver comprehensive video coverage of the 2007 Wimbledon Championships to global audiences on Wimbledon LIVE
.
In 2006, MediaZone and the A.E.L.T.C. collaborated to deliver Wimbledon LIVE
, an All England Club initiative in conjunction with its broadcasters.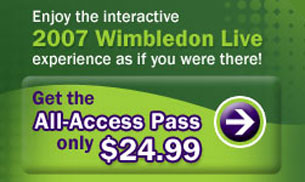 Wimbledon Video On Demand
The broadband video service offered a range of content, including live and VOD coverage of more than 300 matches from up to nine courts concurrently, three free Radio Wimbledon channels of live commentary and ten hours of classic archive footage showcasing the legendary rallies and matches that have taken place throughout the history of the tournament.
Wimbledon LIVE
attracted more than 2.2 million unique visitors worldwide, with subscribers accessing the programming from over 100 territories around the world, consuming 300,000 live streams and 250,000 downloads.
2007's Wimbledon LIVE
builds on this success, and offers even more in-depth coverage of the prestigious championships and an expanded library of archived tournament highlights, footage and interviews as well as new features.
Wimbledon.org (the official website of The Championships) is designed, built and managed by IBM as part of its long-term relationship with The Championships. It continues to be one of the most successful and highly-trafficked sports websites with approximately 5 million unique visitors during The Championships in 2006. Wimbledon.org is also home to the Wimbledon LIVE
service which is created in conjunction with MediaZone.
Extensive Coverage
Wimbledon LIVE
complements NBC Sports, ESPN and other international Club broadcast partners by featuring LIVE and on-demand coverage of many matches not covered on traditional outlets.
Classic Footage
Also included in the paid service are classic matches and archive footage including legendary rallies of tournament greats like JohnMcEnroe, Bjorn Borg, Chris Evert and Martina Navratilova. This year subscribers will also be able to download an Acrobat Reader version of the official programme available for sale only on the Wimbledon grounds in order to enhance their overall experience of "nearly being there."
Also, if you miss a match, you can download or watch it online later. Wimbledon LIVE
will record every point, game and set we show live to our Video On Demand area. You can then choose the matches you want to see, when you want to see them.
---